Mittwoch, 24. Juli 2013
Es ist schon ein Monat her als wir uns für das Deployment nach Stain entschieden haben. Seit dem konnten wir die Russen weiter unter Druck setzen und sie in Stain binden. Es sind sehr enge Kämpfe, bei denen nur wenige Piloten auf der einen oder anderen Seite einen Vorteil bringen. Einen Kampf vom letzten Samstag möchte ich hier beispielhaft herausnehmen.
4GQ Battle Overview
(Link)
Wir reinforcen regelmäßig am Donnerstag ein Großzahl an Tower von RusRus, damit wir sie am Wochenende angreifen können und so RusRus zur Verteidigung zwingen. Je nachdem wie die Reinforcetimer gestellt wurden, suchen wir uns dann die besten für uns heraus. Wir konnten so die letzten Wochen nahezu alle StainHighendmonde in unseren Besitzt bringen. Am Samstag gingen die Kämpfe bereits um halb 10 Uhr morgens los. Wir hatten einen Tower in 4GQ, dass Stagingsystem von Darkness of Despair (DD), angegriffen. Er schien es, als ob die Russen heute morgen keine Lust hatten ihren Tower zu verteidigen, dann aber haben die es sich doch noch einmal anders überlegt und uns angegriffen. Wir waren in leichter Unterzahl und hatten schwer zu tun ihren Angriff abzuwehren. Nach dem ersten Angriff mussten wir uns kurz zurückziehen,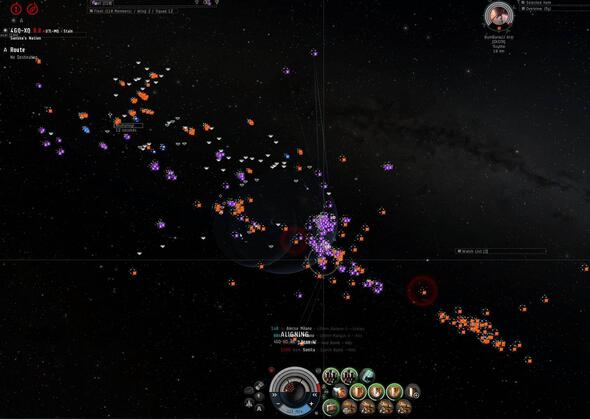 um uns neu zu organisieren. Es gab doch einige Verluste... Neu geordnet konnten wir die zweite Angriffswelle erfolgreich zu Ende bringen und die Russen wieder in die Schranken verweisen. Es ging noch einige mal hin und her bis wir zum Schluss die Oberhand gewonnen hatten und feindlichen Tower abschiessen und unseren verankern könnten. Das war ein sehr spannender Kampf, in dem es teilweise Spitz auf Knopf stand und der von beiden Seiten sehr hart geführt wurde. Es macht Spaß gegen gleichstarke Gegner zu kämpfen und sich seine Siege herauszuarbei- ten. Der Kampf ging über mehrere Stunden. Waiting for the next!
(Seite 1 von 1, insgesamt 1 Einträge)